Music ~ News ~ Fan Photos ~ Band Photos ~ Shows ~ Merchandise ~ Bio
Our songs are available for down load at over 100 legal sites around the world including AMAZON.COM, ITUNES, NAPSTER, RHAPSODY.
PLEASE SUPPORT US BY DOWN LOADING & BUYING OUR MUSIC THROUGH LEGAL VENDORS - OTHERWISE WE EARN NO MONEY AND CAN'T CONTINUE TO SUPPORT OUR ART!
THE EMPIRE DRIVEN BY ROCK DVD IS NOW AVAILABLE!!!
$25.00 includes shipping & handling.
CLICK HERE TO WATCH SOME CLIPS FROM THE DVD.
E-MAIL US TO ORDER YOUR COPY.
Artist: EMPIRE
CD Title: LEECHES
Music Style: Hard Rock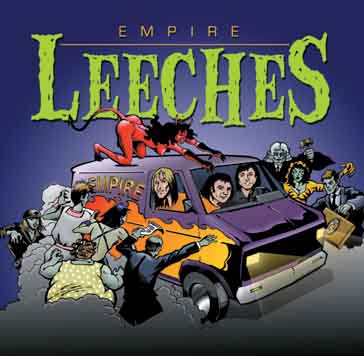 Listen before you buy!
Song List